Mega poultry houses in northeastern Oklahoma
Reaction to the court ruling on Oklahoma's lawsuit over Illinois River watershed pollution. Deadline is March 17, 2023 for chicken companies to come up with a plan of action to halt pollution.
On January 18, 2023, U.S. Federal District Court Judge Gregory Frizzell ruled in favor of Oklahoma in a lawsuit naming poultry corporations including Tyson Foods for polluting the Illinois River watershed. The suit was filed in 2005 by former Oklahoma Attorney General Drew Edmondson. The following reactions to the ruling include newspaper opinions as well as statements from STIR President Denise Deason-Toyne, Mr. Edmondson, and Oklahoma Attorney General Gentner Drummond. Judge Frizzell gave the poultry companies a deadline of March 17, 2023 to develop a plan to halt the pollution they are responsible for.

January 18, 2023, Oklahoma Attorney General Gentner Drummond: This is a great and historic day for Oklahoma. "While this decision has been a long time coming, it is important to note that in the intervening years since the filing of the suit, the poultry industry has made, or is willing to make, strong improvements in waste disposal to ameliorate the extent of the problem. Oklahoma has amazing natural resources that deserve our vigilant protection. We will thoroughly review the judge's decision and determine the appropriate path forward."

Former Oklahoma Attorney General Drew Edmondson to STIR: "The lawsuit to protect our beloved Illinois River, its watershed and Lake Tenkiller, was filed in 2005 after several years of attempting to negotiate a resolution of the poultry waste issues had failed. On page 5 of the court's ruling Judge Frizzell pointed out that the case was tried for 52 days over five months creating a transcript of 11,889 pages and 8,392 pages of admitted exhibits. Last Wednesday, January 18, 2023, the court issued its findings in a 214 page document. It was a home run for the trial team and a very good day for the river.

Essentially the court ruled that the State of Oklahoma prevailed on its claims under state and federal nuisance statutes, under trespass, and in our alleged statutory violations. It found that the poultry companies were responsible for pollution of the watershed with excess application of poultry litter which allowed massive amounts of phosphorous to transport into our creeks and streams, then into our rivers and finally into Lake Tenkiller. The court also found that other sources of phosphorous, golf courses, nurseries, point source from water treatment facilities, cattle and wildlife, were minimal contributors compared to poultry.

The court also found that the companies, not the growers, were responsible and liable for the damage.

There is still a process ahead – it is not over. The court gave the parties until March 17 to come up with a proposed settlement based upon his rulings. That would suggest a series of meetings with the industry and Attorney General Drummond. First and foremost the settlement must protect the watershed. Secondly, and hopefully, there will be resources for reclamation, reversing the damages done. And, the law firms involved should be able to recover their costs, at a minimum. So we begin anew to bring this industry into compliance with state and federal law and the moral imperative to protect the environment for future generations.

If the industry is not willing to participate in such a settlement, the court will enter its judgment and very likely both sides will appeal. The clock will begin to run anew."

Drew Edmondson
Attorney General, 1995-2011
Save the Illinois River President Denise Deason-Toyne
:
"STIR is quite pleased and relieved that the Honorable Judge Frizzell has ruled in favor of the State of Oklahoma on its claims against various Poultry companies. This decision solidifies STIR's mission of protecting the Illinois River, its tributaries and TenKiller Lake from point and non-point source pollutions. STIR has been battling since 1984 to protect this watershed and this decision sends a clear message that this battle, while certainly not over, is in the right.

STIR will likely not have input into the agreement on remedial action but we will stress that any such agreement must have measurable actions which are subject to oversight and review with transparency being key. For example, if part of the agreement is for removal of poultry litter from the watershed, we would want transparency in records regarding how much is removed, where it was taken and whether it is being applied in other watersheds. We will defer to the attorneys to develop a tentative agreement and will probably have more comments after we review any such proposed agreement."
Newspaper editorial opinions

Oklahoma Journal Record by Arnold Hamilton, editor of the Oklahoma Observer:

"Nearly 18 years after then-Attorney General Drew Edmondson filed suit and 13 years after a lengthy federal trial, the poultry industry is being held accountable for polluting northeastern Oklahoma's Illinois River Watershed and Lake Tenkiller.
That it took U.S. District Judge Gregory Frizzell so long to rule almost defies logic. Undoubtedly, it was – as he put it – "complicated" from a legal standpoint. But it was a no-brainer when applying common sense.
No Ph.D.s, lab coats, test tubes or high-tech equipment were required to recognize once-pristine waters are now clouded. Nor was Sherlock Holmes needed to identify the culprit: the region's exploding number of chicken houses.
The state "established that a significant cause of the excess phosphorus in the waters of the IRW is the land application of litter from defendants' poultry," Frizzell wrote in his ruling last month.
It's worth remembering Edmondson's lawsuit against 13 poultry companies and their subsidiaries was nothing short of courageous. He took on a powerful industry without outsize influence in an economically struggling, rural part of the state.
He made some powerful enemies, yet Edmondson persisted … because it was the right thing to do. He fought to protect the environment and Oklahoma's future. He was proven right. But at considerable cost to his political career.
Even so, Edmondson clearly delighted in the legal victory, telling OKC's KFOR-TV that "it's a real opportunity to clean up the Illinois River, clean up Lake Tenkiller, and to institute permanent changes to how the poultry industry operates in northeastern Oklahoma.
"To the benefit of recreation, to the benefit of the people who live there, to the benefit of drinking water. All of those things are possibilities based on this decision."
Oklahoma's current attorney general, Gentner Drummond, also hailed Frizzell's ruling, calling it "a great and historic day for Oklahoma."
"While this decision has been a long time coming," he said, "it is important to note that in the intervening years since the filing of the suit, the poultry industry has made, or is willing to make, strong improvements in waste disposal to ameliorate the extent of the problem.
"Oklahoma has amazing natural resources that deserve our vigilant protection. We will thoroughly review the judge's decision and determine the appropriate path forward."
Frizzell gave the state and poultry operators until March 17 to hammer out a remedy for the problem. If they are unable to produce one that he approves, the judge will impose a judgment.
That the state prevailed does not guarantee the Illinois River and Lake Tenkiller will be pristine again anytime soon. Frizzell didn't limit poultry operations (there are more chickens in the watershed now than when the state filed suit). Nor did he ban the use of chicken-you-know-what as a fertilizer in the region, instructing only that not more be applied than necessary for the crops.
While a major victory for all who care about the environment, it's worth noting the Illinois River and Lake Tenkiller are far from the state's only water quality concerns. In recent years, the state Department of Environmental Quality has warned of disconcerting levels of mercury in more than five dozen reservoirs and lakes – high enough to prompt warnings against eating too many fish pulled from them.
Between declining water quality and climate-change-driven drought, it's not hard to imagine water will become far more valuable than oil and gas in the not-too-distant future.
Still, in this era of hyper-partisanship and hyper-cynicism, let us pause to savor the Illinois River watershed ruling – and to remember what a single courageous public servant can do to help change Oklahoma's future for the better."

Northwest Arkansas Democrat Gazette Doug Thompson:
NWA EDITORIAL | Federal judge, after years, tells poultry producers to clean up their acts
But poultry ruling a big win for Oklahoma by NWA Democrat-Gazette | January 29, 2023

"Last year, a report from the University of Arkansas Division of Agriculture attempted to quantify the impact of the agriculture and food sector within Arkansas.
In economic terms, the report said, the sector in 2021 represented nearly 11% of the state's gross domestic product. As a share of a state's economy, the researchers determined Arkansas' agricultural sector's share of the overall economy was 4.2 times greater than its share in Texas, 2.5 times greater than in Oklahoma and 1.9 times greater than in our neighbor to the north, Missouri.
Animal production accounted for about $5.4 billion in cash receipts within the state in 2021, with poultry and eggs accounting for about 82 percent of that value.
Keeping these stats in mind, when a clash between two states -- in this case, Arkansas and Oklahoma -- turns into litigation, it's a big, big deal. According to the Poultry Federation, Northwest Arkansas -- particularly Washington and Benton counties -- produces more poultry than anywhere else in the state.
Environmentally speaking, what that also means is the Northwest Arkansas produces more byproduct of the poultry industry than anyone else. And the term "byproduct" is a technical nicety. We're talking poop. Lots and lots of it. And the industry's need to dispose of that waste is made complex by a rather simple concept about how water -- and everything it picks up along the way -- rolls downhill.
Downhill, in the case of the Illinois River watershed, means Oklahoma. And as a recent U.S. District Court ruling makes clear, while water may run downhill, the responsibility for what's in it goes in the opposite direction.
On Jan. 18, U.S. District Judge Gregory K. Frizzell issued a critically important, 214-page ruling in the lawsuit against 11 poultry firms that operate directly or through contract about 1,900 active poultry houses within the Illinois River watershed. His ruling came 13 years after the trial ended and nearly 18 years after then-Oklahoma Attorney General Drew Edmondson sued Arkansas poultry companies demanding they, in layman's terms, clean up their acts by ceasing practices that pollute waters flowing into his state.
Yes, it's astonishing a case could take that long and we're not sure why it did, but Frizzell's ruling reads like a technical report by a panel of scientists rather than a sitting judge.
If justice delayed is justice denied, as the saying goes, nobody can be thrilled that the ruling took so long. But, in 2023, we now know this: Oklahoma won. The judge has given the opposing sides in the case until March 17 to work out an appropriate response to the ruling. If they don't, Frizzell says, he will.
A brief recap: The lawsuit involves the spreading of poultry waste as fertilizer onto pasture lands within the Illinois River watershed. In Oklahoma, the Illinois River is officially designated a scenic river that contributes millions to the state's economy through tourism. Perhaps even more importantly, 18 different providers draw their drinking water from the river. The river runs north through Washington County before turning west and entering the Sooner State. In Oklahoma, it flows into Lake Tenkiller.
Without question, the method of disposal pollutes, with the primary concern being the contamination of waters with phosphorus, too much of which can be damaging to ecosystems, turn clear waters murky and rob waterways of oxygen. The argument has largely centered on how much poultry companies are responsible for that, because it's difficult to measure the precise impact of each company's operations. Without precision, it's been easy for poultry companies to do some finger pointing to other potential causes.
Frizzell's ruling is unambiguous: The poultry firms carry significant responsibilities.
Here in Northwest Arkansas, the results of this litigation could be massive, even though it's fair to say practices have dramatically improved in all the years the lawsuit has lingered. The economic repercussions are likely significant; so will the environmental impacts.
We can't help but think back to the yearslong controversy caused by one hog-breeding farm licensed in 2012 by the state to operate within the Buffalo National River watershed. The real and potential pollution impacts to the river -- a major tourism draw -- led Gov. Asa Hutchinson to proffer a $6.2 million purchase of the hog operation and advance a moratorium on other such operations within the watershed.
And that was a single farm, not 1,900 poultry houses, in a watershed. Imagine how much more significant the impact of poultry operations are on the Illinois River. The most conservative estimate given in the trial of the amount of chicken litter produced by the defendants' operations was 354,000 tons a year.
Oklahoma Attorney General Gentner Drummond lauded the recent ruling and sounded hopeful that the two sides aren't as far apart on solutions as they once were.
"This is a great and historic day for Oklahoma," Drummond said. "While this decision has been a long time coming, it is important to note that in the intervening years since the filing of the suit, the poultry industry has made, or is willing to make, strong improvements in waste disposal to ameliorate the extent of the problem. Oklahoma has amazing natural resources that deserve our vigilant protection. We will thoroughly review the judge's decision and determine the appropriate path forward."
Ultimately the judge -- or judges beyond him -- will decide what's necessary for Arkansas poultry interests to comply with the expectations of his ruling.
The sky isn't falling. But nobody could blame Chicken Little for being a bit unnerved."

Northwest Arkansas Democrat Gazette, Mike Masterson:

OPINION | MIKE MASTERSON: Judge: Fix litter problem
by Mike Masterson | January 28, 2023
It took almost 13 years for a federal court to finally rule that our state's poultry growers have been contributing significantly to the pollution of eastern Oklahoma's Illinois River watershed by regularly spreading poultry litter as fertilizer across its pastures.
The effects of this phosphorous contamination have altered the once crystal-clear stream into a murky flow tinged with green algae and a greatly reduced fish population.
As a result of allowing contract poultry growers to continue to spread the litter as fertilizer, 11 Arkansas poultry companies named as defendants violated trespassing and public nuisance-related laws in Oklahoma, U.S. District Judge Gregory K. Frizzell concluded in his 214-page ruling. The trial concluded in 2009.
Before writing on, I should say I've never seen this case (which was actually filed almost 18 years ago by Oklahoma's attorney general) as a winner-or-loser battle between two state, but a matter of right versus wrong.
As with our desire to protect the magnificent Buffalo National River from hog waste fertilizer and its destructive effects on water quality, the Illinois that feeds 13,000-acre Lake Tenkiller and provides water supply for many Oklahomans deserves the same protection.
Veteran journalist Doug Thompson wrote about the judge's ruling last week, explaining that the poultry companies involved, including Tyson and Cargill, now must convene to decide how to finally resolve this complex problem.
Oklahoma and Arkansas have been conducting public meetings on the river's management plan, the latest one scheduled for this past week in West Siloam Springs.
Although efforts at removing litter from the watershed and curtailing other sources have led to a steady drop in levels of phosphorus over the years, Thompson reported, progress has stalled largely because of soil erosion, according to Tate Wentz, water quality section manager for the Arkansas Natural Resources Division, in one of those meetings in October.
"Expert witnesses testified at trial that 20 percent of the fish species in the river had died off in recent years," Thompson wrote, "while the number of fish belonging to carnivorous species had been reduced by 70 percent because of changes in the river, the ruling summarizes.
"The ruling also notes Arkansas poultry companies made efforts to reduce phosphorus runoff, but it said those mitigation steps did not change the court's conclusion. Significant damage was done and continues to be done, it says."
So now, the companies should either come up with a workable plan by March 17 to end this damage being created by some 1,900 poultry houses in the watershed, or rest assured the judge will.
"Poultry companies," Thompson reported, "also give no effective oversight of their contract growers' disposal of litter, the court ruled. 'Historically, defendants have done little--if anything--to provide for or ensure appropriate handling or management of the poultry waste generated by their birds at their growers' houses,' the ruling says. 'The evidence adduced at trial establishes that none of the defendants took any steps to do so.'
"The Arkansas Legislature passed the Arkansas Soil Nutrient Application and Poultry Litter Utilization Act in 2003. However, as amended in 2005, the act didn't take full effect until after Jan. 1, 2007.
"'Thus, it was not until Jan. 2, 2007, that poultry growers were required by Arkansas law to comply with nutrient management plans," [the] ruling says. Enforcement of those plans is left to the state with little or no effort by poultry companies to ensure their growers comply.'"
Phosphorus makes poultry litter such a threat to the Illinois River because it feeds algae, and algae destroy water clarity and drain dissolved oxygen from water. That, in turn, kills life in any stream.
Arkansans learned a lot about its negative effects on fresh water from waste spread within watersheds during the lengthy struggle to finally close a hog factory our state's Department of Environmental Quality wrongheadedly permitted into the sacred Buffalo National River's watershed several years back.
The state finally resolved that blunder after years of controversy by finally buying out the factory owners for a price that left them financially whole.
The Illinois River and its tributaries begin in Benton and Washington counties and flow 145 miles, along pasturelands passing through northeast Oklahoma before entering the Arkansas River. The Oklahoma Legislature designated the Illinois as a scenic river in 1977.
As the litter problem has continued unabated in that stream's waters over the decades, rapidly growing cities in northwest Arkansas actually have done admirable jobs in reducing pollutant levels from their waste treatment plants that discharge into the watershed. Phosphorus in the river from such these so-called "point sources" amounts to less than 20 percent of the phosphorus released, the judge noted. Springdale averaged 8.4 milligrams of phosphorus per liter of water it released in 2001, and is down to less than 0.1 per liter now, according to the utility. Other sewage plants in Arkansas and Oklahoma releasing treated wastewater report similar improvements.
So now we will wait until mid-March or so when it appears things are going to change one way or the other.
Now go out into the world and treat everyone you meet exactly like you want them to treat you.
Mike Masterson is a longtime Arkansas journalist, was editor of three Arkansas dailies and headed the master's journalism program at Ohio State University. Email him at mmasterson@arkansasonline.com."

Read the opinion on Oklahoma's poultry lawsuit here.

WE WATCH THE WATER FOR YOU. WILL YOU PLEASE JOIN OR RENEW YOUR STIR MEMBERSHIP NOW?
THANK YOU.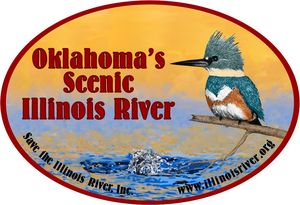 ---
Click to view this email in a browser
If you no longer wish to receive these emails, please reply to this message with "Unsubscribe" in the subject line or simply click on the following link:
Unsubscribe
---
Save the Illinois River, Inc.
24369 E 757 Rd
Tahlequah, OK 74464-1949
US
Read the VerticalResponse marketing policy.