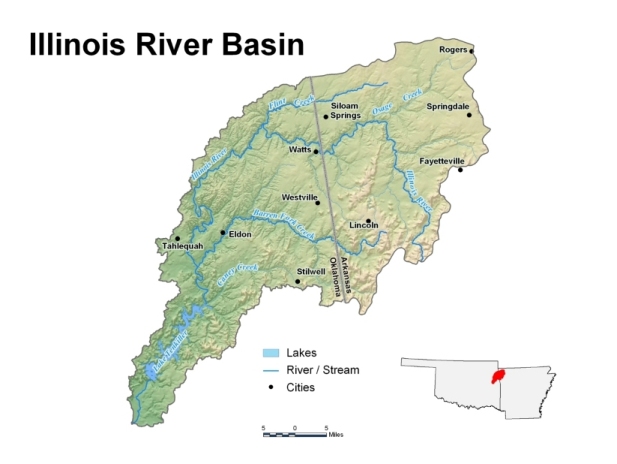 NEW REPORT ON WATER QUALITY OF THE ILLINOIS RIVER
SCENIC RIVERS PHOSPHORUS DECLINING BUT LIMIT NOT MET

(Tahlequah)—A report for Illinois River water quality finds no significant upward trend in phosphorus, the nutrient that clouds the water of Oklahoma Scenic Rivers and Lake Tenkiller with unsightly algae. The report finds that Oklahoma's phosphorus limit is exceeded by nearly 100-percent at the border with Arkansas and is surpassed by 94-percent at Tahlequah. Oklahoma is not enforcing the limit and both Arkansas and Oklahoma are seeking voluntary efforts to manage the Illinois River watershed.

The level of phosphorus in the Illinois River at Watts ranged from 0.01 to 1.153 mg/l. At Tahlequah, phosphorus levels ranged from 0.01 to 0.438 mg/l from 1998 to the current data. The phosphorus trend for Barren Fork Creek at Eldon showed "a slight to moderate significant downward trend" for all data for the period of record beginning is 1993 and a "highly significant downward trend" for unadjusted data.

Oklahoma has a phosphorus limit of 0.037 mg/l for scenic rivers. Arkansas has no phosphorus limit for the Illinois River. Oklahoma's limit was adopted following a United States Supreme Court ruling that Arkansas must meet Oklahoma's water quality standards. In the same ruling the high court permitted Fayetteville, Arkansas to discharge half of its treated sewage into the Illinois River despite Oklahoma's objections.

The report was presented in September to the Arkansas, Oklahoma Arkansas River Compact Commission, a federally appointed agency which monitors water quality and quantity flowing between the states.

Phosphorus data has been collected since 1980 at monitoring stations located at Flint Creek near Kansas, Oklahoma, the Illinois River near Watts, the Illinois River near Tahlequah, and Barren Fork Creek near Eldon.

Phosphorus is declining as shown by data for 1998-2002 when Illinois River phosphorus averaged nearly 168,000 kilograms, approximately 185 tons a year at Watts. The average for the Illinois River at Tahlequah for that period was more than 131,000 kilograms, or approximately 144 tons per year contributing to the degradation of Lake Tenkiller.

The environmental committee reports are on the web site of Save the Illinois River, www.illinoisriver.org. See Resources.