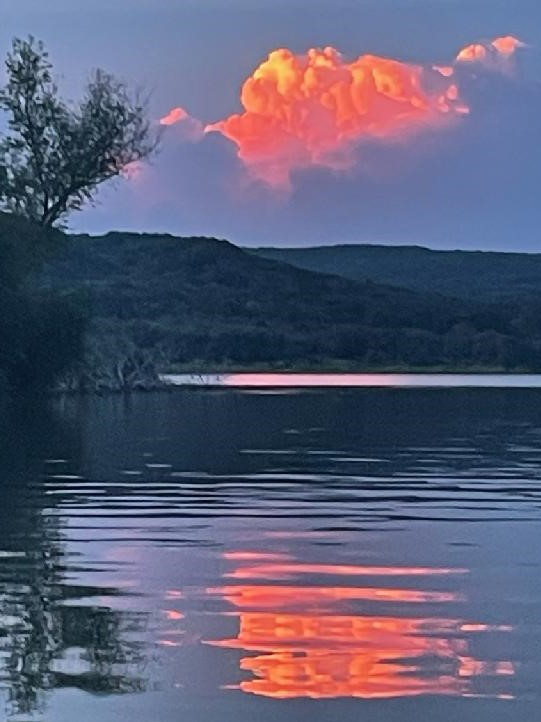 Lake Tenkiller on an August Day by Lloyd Moden, Tahlequah
Reminder:
STIR Annual Membership Meeting Saturday, Sept.16th at Sequoyah Club.
Reception 5:30 p.m.
Ed Edmondson Awards Banquet 7:00 p.m.

Socialize, catch up on Illinois River and Lake Tenkiller news, enjoy our speaker, honor Water Warriors, and have a great dinner at the Club House on the banks of the beautiful Illinois River.
We'll meet at the Club House and will be driven to the Rowsey "cabin".
RSVP at
info@illinoisriver.org
or call no later than Sept. 13. Call (918) 284-9440.

ELECTION OF DIRECTORS AND OFFICERS
The Nominating Committee unanimously recommends the size of the board be increased and that the following nominees are recommended for election to the board of directors.
Dr. Christine Hallman, Northeastern State University Freshwater Science Program.
Elizabeth Waring, Northeastern State University Freshwater Science Program.
Max McCullough, Tahlequah
Current officers of STIR are:
President: Denise Deason-Toyne, Tahlequah
Vice President: Barb Daily, Tahlequah
Treasurer: Ed Brocksmith, Tahlequah

Current Directors are:
Ed Fite, Tahlequah
Nancy Garber, Tahlequah
Dr. Gary VanDenbos, Tahlequah
Stephen Alaya, Tahlequah
Paul Rowsey, Sequoyah Club
Members in good standing may nominate candidates for the STIR Board of Directors and for STIR officers by mail or email no later than September 13, 2023.
Email nominations to: info@illinoisriver.org.
Mail nominations to: 24369 E 757 Rd.
Tahlequah, OK 74464.

PLEASE REMEMBER TO PROVIDE STIR YOUR EMAIL ADDRESS IN ORDER TO SAVE ON POSTAGE.
JOIN OR RENEW YOUR STIR MEMBERSHIP

---
Click to view this email in a browser
If you no longer wish to receive these emails, please reply to this message with "Unsubscribe" in the subject line or simply click on the following link:
Unsubscribe
---
Save the Illinois River, Inc.
24369 E 757 Rd
Tahlequah, OK 74464-1949
US
Read the VerticalResponse marketing policy.